Best Baby Items to Buy on Amazon
*This post may have affiliate links, which means I may receive commissions if you choose to purchase through links I provide (at no extra cost to you). Please read my disclaimer for additional details. Thank you for supporting the work I put into this site!
Babies come with not only oodles of cuteness and mush, but also a lot of responsibilities and shopping lists! Thanks to online shopping, it is possible for new parents to find everything they need, just a few clicks away.
However, it is natural for new parents (and not-so-new parents) to be confused after seeing the sheer variety of baby products available online. Here is a list of the best baby items that you should buy on Amazon. This will make your task of stocking up on baby essentials easier.
Sign Up for an Amazon Baby Registry
If you are the expectant parent, the very first thing you should do i sign up for Amazon's Baby Registry. This offers all of your friends and family members a quick and easy way to get you the exact items you want for your new baby.

Fun facts about the Amazon Baby Registry:
Lots of Discounts
Extended Return Period
Add Items from Any Website, not just Amazon
Here are some ideas for things you should definitely put on your registry list.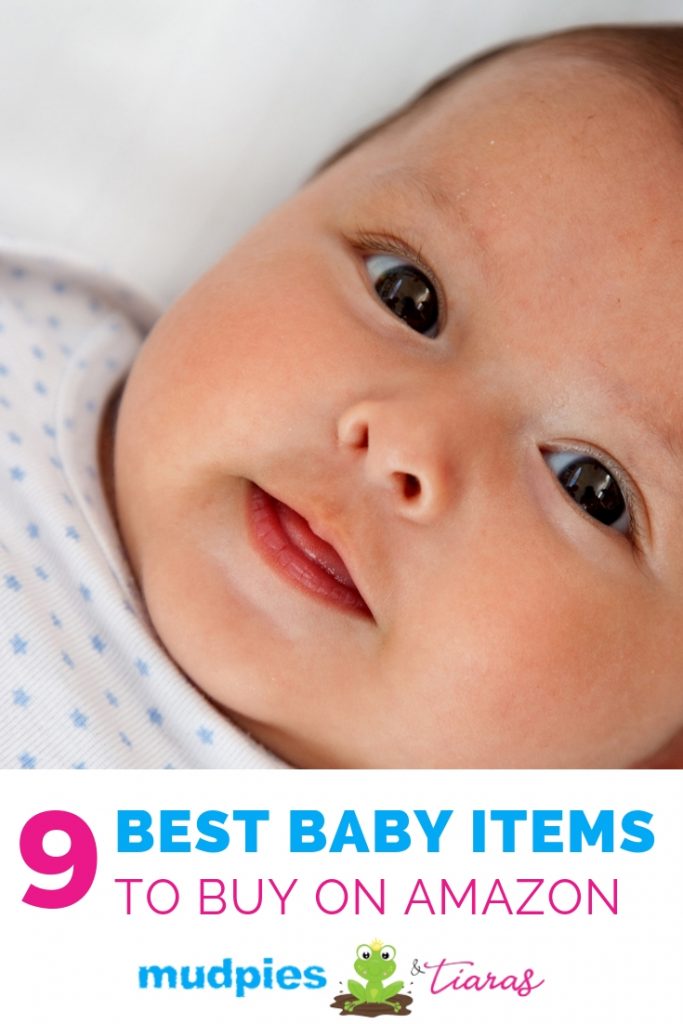 1. An Ergonomic Baby Carrier
Well, if you have a baby, you will have to carry him/ her around. An ergonomic baby carrier comes to the rescue because it allows you to carry the baby without straining your back. It is the most comfortable way in which the baby can be carried.
With the right baby carrier, you will have both hands free for chores. These carriers are available in a large variety of fits, colours and prints, and you may choose the one that appeals to you the most. It has become a fashion statement among parents because of its medical benefits and safety.
I preferred a ring sling for my baby but I have to admit I never tried a regular carrier. It does seem like it would be a little bit more hands free.

2. Baby Proofing Gear
Once your baby becomes mobile you will realize how your cute little munchkins have been bestowed with superpowers that allow them to open drawers, bang doors and fiddle with window panes. Yes, they can reach places that you wouldn't imagine.
That's why you need babyproofing gear. These magical tools will keep those nasty sharp edges, drawers and panes from hurting the baby. After all, you don't want your baby to get hurt while playing in the house and exploring new things. Also, these items are necessary because it is impossible for anyone to keep an eye on the babies 24×7.

3. Baby Grooming kit
Babies look adorable as they are, but with a little bit of regular grooming, they look even more cute. A handy grooming kit will comprise of a set of nail clippers, an ultra-soft hair brush and baby-safe scissors.
With these rocking tools at hand, you can trim and groom the baby's nails and hair in a completely safe way. With such a kit at hand, you will prevent the baby from scratching himself/ herself or you.

4. Gentle Baby Wash
Those tiny hands and feet will get dirty as they explore the world. That's why you will need a gentle yet effective cleanser.
The ideal baby wash will have no harsh chemicals like parabens or BHT, and it will only have natural fragrance. There are plenty of these cleansers available, and you will be spoilt for choice when it comes to their variety.

5. No Tears Shampoo
Babies not only have an extremely delicate skin and scalp, they are also very prone to shampoos getting inside their eyes. That's why you need a special baby shampoo that won't hurt their delicate eyes. At the same time, the shampoo should be efficient in cleaning the baby's scalp and hair.
6. Diapers
I wish diapers on Amazon had been a thing when I had my baby. Their pricing and selection can't be beat and you have to love two day shipping and subscriptions!
7. Baby Bathtub
This is something you will use frequently. I had one with the sling and honestly never used it but some parents may find that feature convenient. There are lots of different options.
This one is what I used and it worked great for me. I didn't use the sling very much though. I've also added some other great options for you to check out below.
8. Onesies
I know I know. The first thing any new mom wants to do when they find out they are pregnant is go shopping for all the super duper cute baby clothes. I know because I did it. Let me level with the new parents. Your baby will probably live in his / her onesie. This is especially true for summer babies.
Until my baby could walk she was always in her "jammies". They are just quick and easy to put on, comfy and cute. You can never have too many lying around and Amazon is a great place to get them!
9. Baby Blankets
Baby blankets are the best and you can never have too many, at least in my opinion. My daughter is a pre-teen now and I still have her Care Bears baby blanket in my car. She uses it to cover up her legs if she gets cold or rolls it up for a pillow if she wants to take a nap. Plus, they are cute!
With the arsenal of these handy and essential baby items that you can find on Amazon, you will be prepared for life with a baby. These items are not only essential, but also make your life much easier, while ensuring your baby's safety. These items are also ideal as presents to expecting couples because they are definitely going to need all of them.