Easy Homemade Tomato Soup Recipe
*This post may have affiliate links, which means I may receive commissions if you choose to purchase through links I provide (at no extra cost to you). Please read my disclaimer for additional details. Thank you for supporting the work I put into this site!

Very few dishes can match the wholesome goodness of a freshly made bowl of creamy tomato soup. It is rich in antioxidants, is tasty and love by almost everyone. Tomato soup is the perfect accompaniment to several menus and cuisines. It is perfect for those days when you want to have a delicious meal without much effort and without many ingredients.
Making tomato soup at home is very simple, and once you get used to making it at home, you would never feel like getting a pre-made soup mix or heat and eat packaged soups. Thus, we should all know how to make a lip-smacking, hearty portion of tomato soup at home. Here is one recipe that will never ever disappoint you. Read on.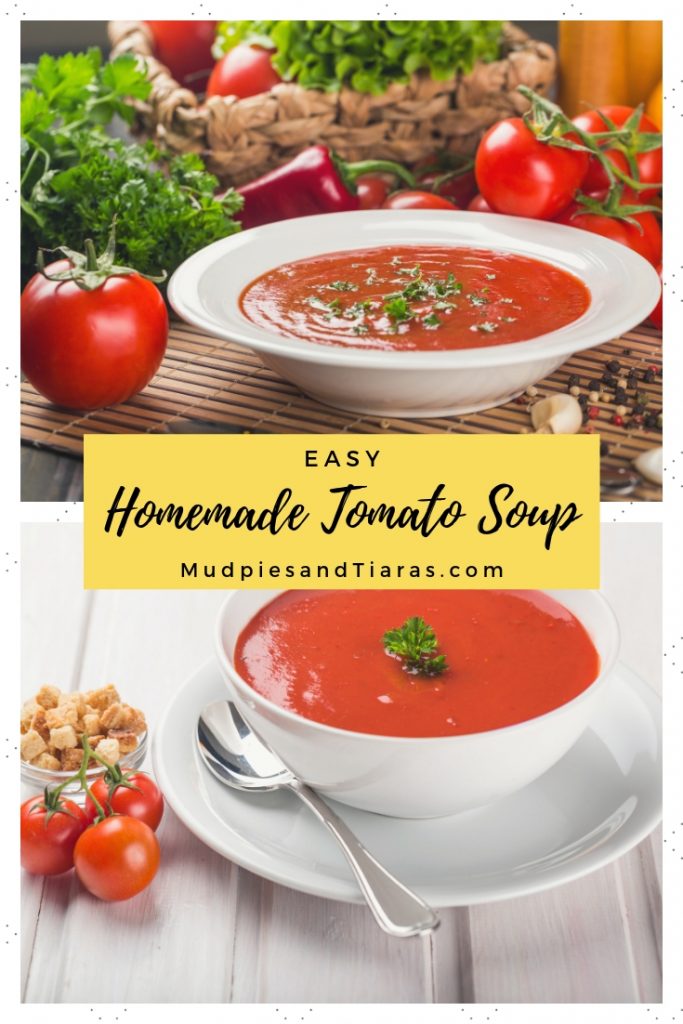 Ingredients (for six servings):
3 lbs fresh tomatoes, ripe.
Half onion, diced.
4 cloves of garlic, peeled.
Half bell pepper, red, diced.
Half teaspoon basil, dried.
Half teaspoon oregano, dried.
2 tablespoons fresh herbs like oregano, basil etc.
¼ cup parmesan cheese.
2 tablespoons olive oil.
2 cups chicken broth.
Salt and pepper to taste.
½ cup heavy cream (optional).
Tomato Soup Recipe:
Heat the oven to 450°F before you start.
Wash the tomatoes well and cut them in smaller pieces.
Put tomatoes, onion, bell pepper, garlic, olive oil, dried herbs, salt and pepper in a big pan and mix well.
Roast in the oven for about 25 minutes and keep mixing occasionally.
Broil in the oven for about 4-5 minutes and let some tomato pieces get slightly charred.
Remove from the oven and keep aside.
In a separate pan, boil chicken broth and add this tomato mixture, along with fresh herbs.
Use a hand blender to blend the mixture into a uniform, paste-like consistency. Add heavy cream if desired.
While serving, garnish with croutons, parmesan cheese or cream.
The preparation time for this recipe is only about 10 minutes, and the total cooking time is about half an hour. It is ready for relishing in under 40 minutes if you have all the ingredients.
Since this soup is home-made, it doesn't contain high amounts of sodium or any chemical preservatives and taste regulators. You can vary the salt content according to your taste preferences.